The Sarah Lantz Memorial Fund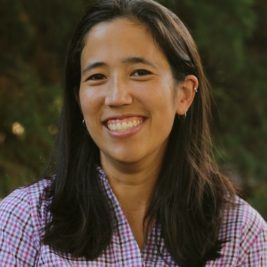 Dr. Sarah Michelle Lantz
May 7, 1981 – January 13, 2016
by Dr. Kent Brantly
Editor's Note: Dr. Sarah Lantz was serving with the Post-Residency Program at Mukinge Hospital in Zambia when she returned to the U.S. with flu-like symptoms. Testing revealed that the 34-year-old doctor had advanced breast cancer. After struggling with the disease for six months, Sarah lost her life on January 13.
There was only one Sarah Lantz in this world. I met Sarah when I was a first year medical student at Indiana University School of Medicine. She was a second year student, and one of the student leaders of the Christian Medical and Dental Associations. We shared in Bible studies together, and she was always giving advice to those of us one year her junior – "Take this elective rotation." "Use this study guide." "Don't worry about the future." I even got to join in some of her late night Ultimate Frisbee games with the youth group in the church parking lot. Sarah was as close to a mentor as a peer can be. Because we all recognized that she was operating on a higher level than the rest of us. Sarah was going to be a missionary surgeon in Africa. Everyone who knew her knew that about her, and no one doubted her chances of achieving her goals. Sarah stood out among her peers because of her committed professionalism, her moral integrity, her encouraging spirit, and her contagious joy. Sarah Lantz was one of a kind. But what really made Sarah stand out was the light of Christ shining through her and the evidence of the Holy Spirit that filled her life.
When Sarah was diagnosed with cancer, she wrestled with fear and anger and loss. But she repeatedly chose faithfulness to God rather than bitterness or doubt. Sarah wrote on August 20th, "I wish that I could see all of this from God's eternal perspective, because from a Sarah Lantz point of view, this stinks. I continue to trust that God holds me firmly in His hand, that my Savior Jesus Christ knows my pain and my fear; that every detail of my life belongs under His sovereign plan. I trust that none of this will be wasted."
I think the crowd gathered here today is evidence that none of Sarah's suffering – and none of her life – was wasted. Sarah left an indelible impression on everyone who knew her. And none of us will be the same for having known her.
I only got to speak with Sarah a few times after she returned to the United States, but we exchanged emails and text messages more than we spoke. And as often as I tried to encourage her in this difficult journey, she would instead encourage me, reminding me of her faith that God is who He says He is, and that he will do what he says he will do.
One thing I've been learning over the last year and a half is that, although incredibly uncomfortable, it is ok to live in a place of tension with God – asking why, being angry, being full of grief. I'm confident that God isn't thrown off by our angst. His sovereignty is big enough to handle our uncertainties.
As we grieve our loss of Sarah, the pain is real. But as Scripture says, "we do not grieve as those who have no hope, for we believe that Jesus died and rose again, and so we believe that God will bring with Jesus those who have fallen asleep in him."
Lamentations 3:20-24 is a passage I shared with Sarah back in August, and it is a passage I return to today. It reads:
I will never forget this awful time, as I grieve over my loss.
Yet I still dare to hope when I remember this:
The faithful love of the Lord never ends!
His mercies never cease.
Great is His faithfulness;
His mercies begin afresh each morning.
I say to myself, "The Lord is my inheritance;
Therefore, I will hope in Him!
If I could talk to Sarah today, I would tell her what I wrote to her months ago: We love you, sister, and I thank God for the way he has used you to bless and challenge and encourage me along this journey. You are a daughter of the glorious King of Kings, whose love knows no bounds, whose grace is abundant and free, whose mercy is new every morning, whose faithfulness is great, whose compassion took him to the cross, and whose power conquered death. We love you. He loves you even more! And that is all that any of us needs.
Donations will go to fund a PAACS resident's training program. It costs $125,000 to train a PAACS resident for 5 years. Thank you for your donation!