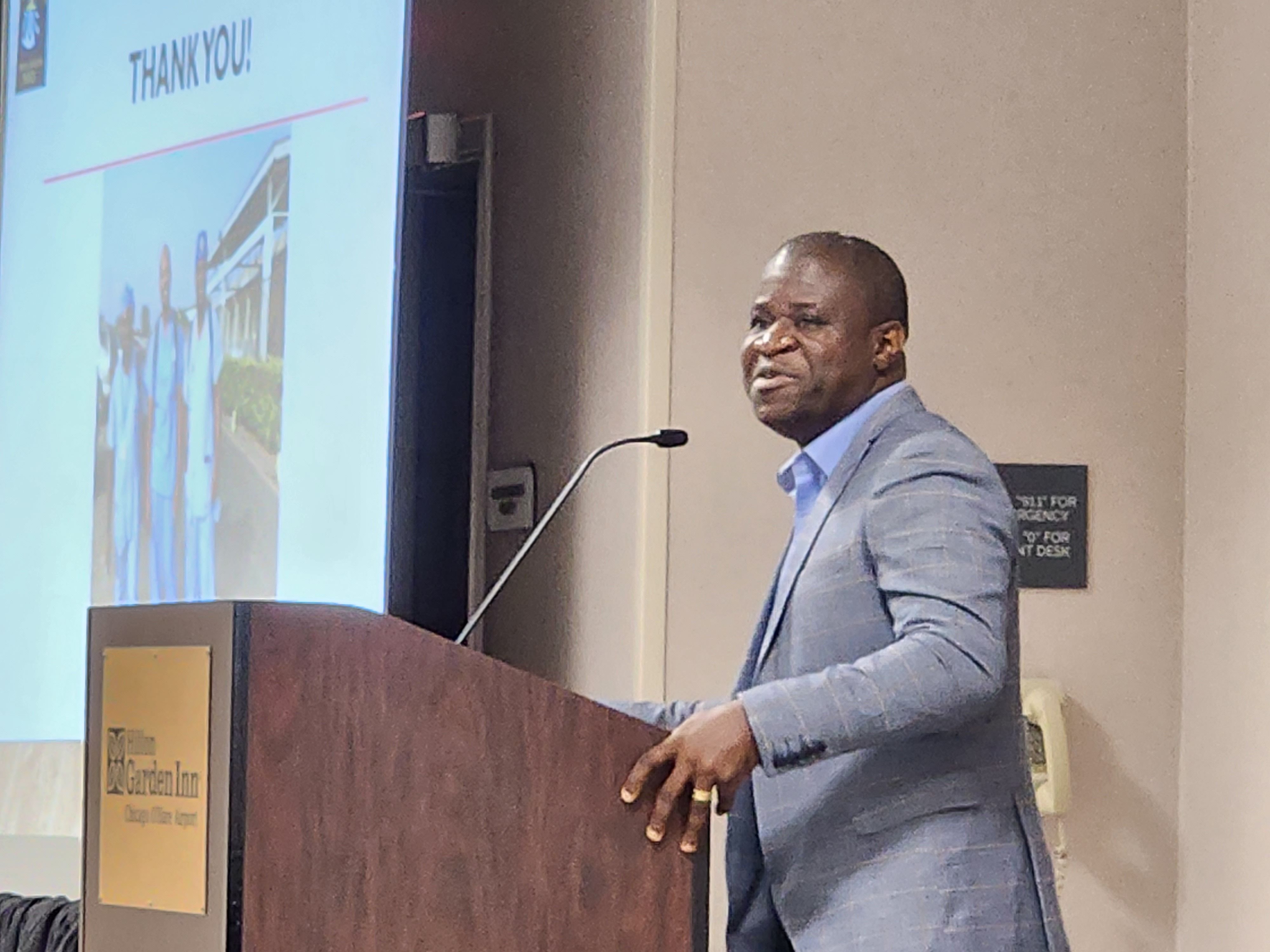 The PAACS Spring 2023 Board of Directors Meeting was a remarkable event that brought together participants from across the world. This hybrid meeting, held in Chicago, was attended by 81 individuals in-person and 40 virtually, making it a truly global gathering. The meeting provided a unique opportunity for people to learn about the inner workings of PAACS, and it was exciting to see an increase in the participation of PAACS graduates and faculty members at the in-person meeting.
The PAACS Board of Directors Open Session Meeting, which took place on April 14th, was the highlight of the event. It was attended by members of the PAACS Board of Directors, leadership, faculty, administration, and guests. The session was packed with information. PAACS graduate Dr. Dieudonne Lemfuka presented about advancing surgical care in sub-Saharan Africa and the impact of PAACS. Also, in-person were PAACS Faculty, Dr. Moselle Stark, Dr. Britney Grayson, and Dr. Jens Vaylann, and they presented on the OB/Gyn program, Pediatric Surgery program, and the new General Surgery program at Nkhoma Mission Hospital, respectively. Many PAACS program presentations were given virtually, including Dr. Paul Lim from Harpur Memorial Hospital in Egypt, and Drs. Phillip Blasto and Valentine Mbithi at AIC Litein Hospital in Kenya. PAACS graduate Dr. Emmanuel Lema spoke from a graduate's perspective about PAACS. He is now serving as faculty at Arusha Lutheran Medical Centre in Tanzania.
Additionally, there were special presentations by speakers such as Dr. Mike Chupp, CEO of CMDA, Greg Seager, CEO of Christian Health Service Corps, Dr. Douglas Lungu, CMO of the Medical Benevolence Foundation, and Dr. Jonathan Saxe of the Christian Surgeons Fellowship. Also, the African Representative of the PAACS Board of Directors, Professor King David Yawe, presented on the collaboration of WACS and PAACS. The session included a feature presentation from ALL-SAFE (Drs. Grace Kim and David Jeffcoach) as the grand prize winners of the Global Surgery Training Challenge. They were awarded a grant of $700,000 to advance their goal of creating an open-source simulation platform to teach laparoscopy in low- and middle-income countries (LMICs). All PAACS councils and committees provided an update, including the status of our current Strategic Plan, given by Dr. Doug Lundy. A fellowship dinner was held in the evening and included a time of prayer and worship.
PAACS truly relies on prayer within this ministry, and it was woven throughout the meeting. It was a wonderful opportunity for many who are a part of our mission to stand united in prayer before our God, praising and thanking Him for all He has done. Together, we covered all our programs, partners, and graduates in prayer and will seek to continue following God's will for the future of this ministry.
Overall, the PAACS Spring 2023 Board of Directors Meeting was a great success, and it demonstrated the commitment of PAACS to its mission of training and discipling African surgeons and related specialists to provide excellent care.
The next Board of Directors Meeting will take place in October, and we look forward to an increase in attendance. Mark your calendar and join us for the Fall PAACS Board of Directors Meeting in Chicago on October 12-14, 2023.