Bruce C. Steffes, MD, MBA, MA, FACS, FWACS, FCS(ECSA), FICS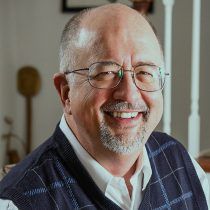 Dr. Bruce Steffes – PAACS Bulletin Editor & Consultant
Contact Information:
Bruce C. Steffes, MBA, MA (Bib. Min), FACS, FWACS, FCS (ECSA), FICS
PAACS Bulletin Editor & Consultant
Telephone: 910-630-6366
Email Bruce
Bruce Steffes joined the PAACS Commission in November, 2003. He served as the Executive Director of the Pan-African Academy of Christian Surgeons from March 2006 until December 2014 and has served as Chief Medical Officer until his retirement in December 2016. Since early 1998, Bruce has spent the majority of each year as a volunteer physician, general surgeon, and administrator in developing countries. He has logged almost 1.2 million air miles while serving in Haiti, Belize, Guatemala, Brazil, Ethiopia, Kenya, Uganda, Ghana, Gabon, Togo, Benin, Zambia, Sierra Leone, Liberia, Papua New Guinea, Afghanistan, and Uzbekistan. He has also visited several other countries and medical works in developing nations.
His undergraduate work was at Baptist Bible College of Pennsylvania (now Clarks Summit University) and the University of Michigan – Flint College. He received an early acceptance into medical school after his junior year of undergraduate studies, and therefore he didn't receive his undergraduate degree until 2014 when he completed his degree in "accelerated studies" 45 years after he started as a freshman. He graduated in 1976 from the University of Michigan College of Medicine and then trained six years in general surgery at the University of Florida. He became a certified surgical intensivist, grandfathering in by writing the exam in 1992. He has been also awarded a Masters of Business Administration from the Fuqua School of Business at Duke University (1997) and was certified in tropical medicine by the American Society of Tropical Medicine and Hygiene. He has also received a Masters of Arts in Biblical Ministry from Baptist Bible College of Pennsylvania (2014).
A member of CMDA for over 40 years, he is active in other ministries of the CMDA and is especially interested in medical education. He served as a member and is now the financial officer of the Continuing Medical and Dental Education Commission (CMDE) which is involved in the provision of continuing medical education for American medical missionaries, has taught resuscitation courses in East Africa with Medical Education International (MEI) and has spoken several times at the Global Missions Conference in Louisville, KY and the Prescription for Renewal Conference at The Cove in Asheville, NC. He and his wife, Micky, have written the Handbook for Short Term Medical Missionaries, published by ABWE (2002), and updated it in two volumes, Medical Missions: Get Ready, Get Set, GO! (S3 Publishing, 2009) and Your Mission: Get Ready, Get Set, GO! (S3 Publishing, 2010), both of which are available through the CMDA resource Web site. When in the US, Steffes served for a decade as a volunteer associate clinical professor of surgery at Duke University and until December 2013, taught anatomy and physiology each fall for 16 years in the Physician Assistant Program at Methodist University in his adopted hometown of Fayetteville, NC. He is an associate professor in surgery at Loma Linda University and is also a guest lecturer yearly at the West Virginia University Clinical Tropical Medicine and Parasitology Training Course. In 2009, he was named as one of the Distinguished Global Faculty of The University of Toledo.
Steffes will continue to play a role within PAACS, acting as consultant to the PAACS Commission and Administration, taking an active role in the General Surgery Council, serving as one of the editors of the PAACS Bulletin e-mail newsletter, assisting in budgeting, and continuing with the PAACS exam process.
Steffes is a fellow of the American College of Surgeons, the West African College of Surgeons, the College of Surgery of East, Central, and Southern Africa and the International College of Surgeons.  He has been recognized for his work with PAACS with the 2008 International Medicine Award (from the Institute for International Medicine) and induction to the Medical Missions Hall of Fame, located at the University of Toledo in Ohio. He has also been named the Educator of the Year (2015) by the Christian Medical and Dental Associations.