David C. Thompson, MD, FACS, FWACS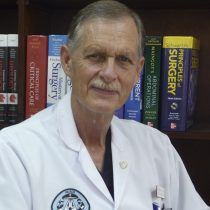 Dr. David Thompson – PAACS Founder
Contact Information:
Email David
David was born in Pittsburgh, PA on June 21, 1948 to missionary parents serving in Cambodia with the Christian & Missionary Alliance. As a first-grade student at the Dalat School for missionary children in Viet Nam, David prayed to receive Jesus Christ. At the age of 14 while traveling with his parents in Cambodia, he saw a man die alongside the road.  The man had been severely injured in a car accident and nobody was able to help him. David's father tried to help and share the gospel with him, but the man, a Buddhist, refused before dying. The experience profoundly affected David and served as God's call to him to be a missionary doctor.
David completed his pre-med studies at Geneva College in Beaver Falls, PA. During David's sophomore year, communist soldiers killed David's parents in Viet Nam. Their death led him to a crisis of faith that culminated in a decision to entrust himself entirely to God for a life of service overseas among the poor.
In 1969, David was accepted to the University of Pittsburgh School of Medicine. During his second year, he married Rebecca Mitchell, the daughter of Alliance missionaries to Viet Nam. After graduation, he completed two years of residency in general surgery at Mercy Hospital and Medical Center in San Diego, California. In 1975, he and his wife accepted the Alliance's invitation to serve as medical missionaries to Gabon, Central Africa. Their mission was to transform a small dispensary in southern Gabon into a major medical facility for the region. From 1975 to 1977, the Thompsons studied in France and Belgium and earned degrees in French and in tropical medicine. They arrived in Gabon in May 1977, and shortly after opened a nursing school and launched the Bongolo Hospital.
The Thompsons returned to Los Angeles in 1981 where David completed three more years of residency in general surgery at White Memorial Hospital. The following year, he qualified for the American Board of Surgery and returned to Gabon to resume his work as a missionary surgeon. Within a few years, he found himself overwhelmed by the demand for surgical services.
At a CMDE meeting in Kenya in 1996, David met with 10 other surgeons who were experiencing the same problem at the Christian hospitals in Africa where they served. After a week of discussions and planning, the group established the Pan-African Academy of Christian Surgeons, with a goal to train and disciple 100 African surgeons by 2020 at existing Christian hospitals staffed by qualified surgeons. David opened the first program at Bongolo Hospital in 1997 and served as the organization's Executive Director until 2006.
Today, Bongolo Hospital is a 150-bed facility that provides a wide variety of medical services to poor and middle class patients. It has become the major medical referral center for the southern third of the country. Over the past 25 years, more than 25,000 people have come to faith in Christ at the hospital. More information about the hospital is available at bongolohospital.org.
In 2012, David and his wife accepted an invitation from the Episcopal/Anglican Diocese of Egypt to help establish a new PAACS training program at Harpur Memorial Hospital, in Menouf. After the leadership of PAACS approved the project, David and his wife moved to Egypt to begin language and cultural studies in early 2013. During their first 18 months, they witnessed both of Egypt's revolutions. In January 2014, David and his surgical colleague, Sherif Hanna, opened the PAACS program at Harpur with two Egyptian residents.
In July 2014, David was appointed by PAACS to be the Regional Director for North, East, and Southern Africa, an area which includes PAACS programs in Egypt, Ethiopia, Kenya, Tanzania, and Malawi.
David and his wife Rebecca have three grown children and six grandchildren. David has written and published four books: On Call, Beyond the Mist, The Hand on My Scalpel, and Christian Mercy.
On Call, The Hand on My Scalpel and Christian Mercy are available to purchase on amazon.com.