William C. Wood, MD, FACS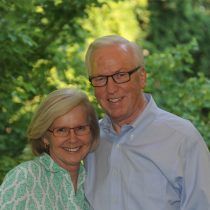 Bill Wood, MD, FACS – Academic Dean
Contact Information:
Email Bill
Dr. Bill Wood is a surgical oncologist, world-renowned in the treatment of breast cancer. He has recently retired as Professor of Surgery in the Emory University School of Medicine in Atlanta, Georgia where he had previously held the position of Chairman of the Department of Surgery. Wood is a graduate cum laude of Wheaton College and the Harvard Medical School. His surgical training was at Harvard's Massachusetts General Hospital, and he continued on as faculty at the Harvard Medical School and MGH until 1990 when he moved to Atlanta. He has been active in multiple international trials and surgical oncology advisory groups, served on journal editorial boards (presently is the Editor-in-Chief of the journal Oncology) and has authored or co-authored over 270 medical articles, 38 textbook chapters, and 7 medical books. He is the father of three grown children, one of whom is also a physician.
Dr. Wood writes:
I see my role as assisting the Executive Director and Program Directors in strengthening the academic aspects of the residency program. My hope is that the PAACS residents will receive the best training available in Africa. That is a reach from the human perspective, but Jesus always turned insufficient resources into abundance, and is as capable today as He was two millennia ago. The primary academic burden is carried by the Program Directors in any residency, so seeing the strengths and weaknesses of the individual programs will allow precise diagnoses to permit wise responses. 

The appointment of the Academic and Spiritual Deans is a tribute to the foundation already laid by the Commission, Committee Chairs, and Executive Director. The basics are now in place and functioning. The Deans hope to take their areas to a new level of accomplishment. Their parallel positions indicate the commitment to balancing the spiritual discipleship and academic rigor of the surgical training to produce women and men who will be leaders in their hospitals, churches, and communities. To assume leadership in the medical community demands a high level of excellence and commitment to continuing education throughout their careers. This should provide encouragement to those who are watching PAACS to join in supporting this vital effort.