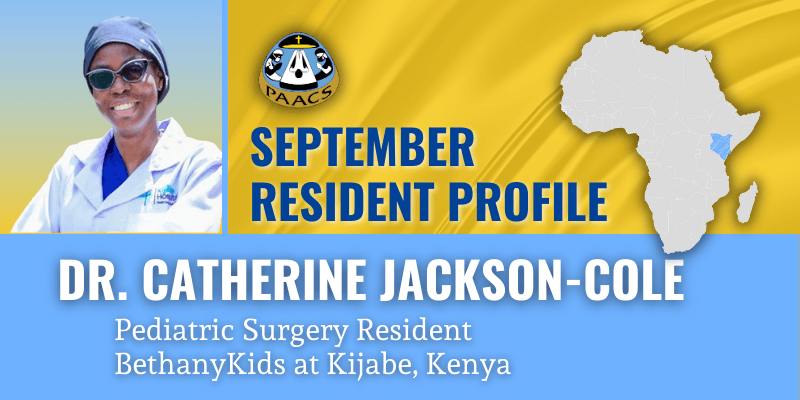 PAACS Resident Profile
Dr. Catherine Jackson-Cole
Pediatric Surgery Resident
BethanyKids at Kijabe – Kenya
Dr. Catherine Jackson-Cole has nearly completed her first year as a pediatric surgery resident at BethanyKids at Kijabe, in Kenya. Influenced by her mother who was a doctor, she wanted to practice medicine from a very young age. She had not thought about pursuing surgery until she met PAACS Graduate, Dr. Aiah Lebbie. She saw him touching lives and saving many children in Sierra Leone. It is estimated that 10% of childhood deaths are avoidable through surgery. Witnessing his work, she felt called by God to care for these children as a surgeon.
While practicing alongside Dr. Lebbie in Sierra Leone, he became her mentor. She began participating in surgeries with him, yet she still wasn't planning to train as a surgeon. One day, a young boy was taken back to the operating room to have a tumor removed from his kidney. To this day, Dr. Jackson-Cole remembers holding that tumor in her hands. This young life was being transformed through surgery. Instantly, she knew that she had found her calling to become a pediatric surgeon. A few months later, she was able to meet the boy after an appointment with his oncologist. He had been cured and was full of joy.
Dr. Lebbie then introduced her to PAACS where she was drawn to the Christian environment. Her previous medical training did not have a spiritual component. She is grateful to PAACS for the training that she is receiving, including group bible studies and colleagues who are truly invested in her spiritual growth. With PAACS she has been surrounded by encouragement, from the Program Director to her colleagues and even visiting consultants. She feels supported through her studies and uplifted with prayer. Others have provided a level of spiritual accountability she didn't realize was missing from her walk with Jesus Christ.
When she completes her PAACS training, she would love to return home to Sierra Leone. Not only does she want to provide surgical services to the children in her community, but she has a strong desire to volunteer in remote areas, offering free surgical care where it is needed most. Though her future isn't completely clear yet, she knows there is time to listen to God's direction for her path forward.