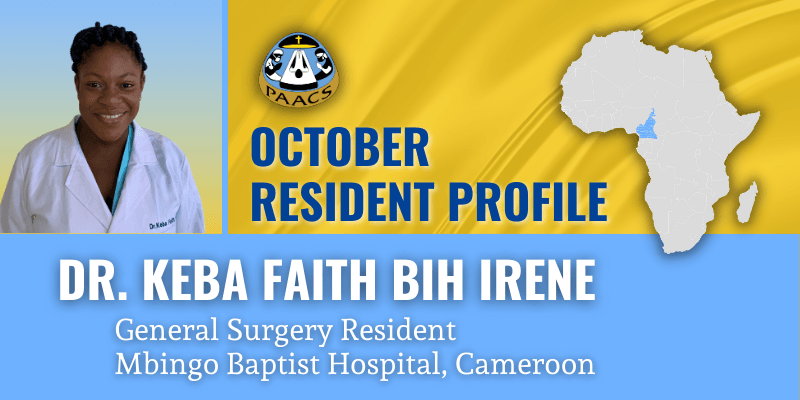 PAACS Resident Profile
Dr. Keba Faith Bih Irene
General Surgery Resident
Mbingo Baptist Hospital – Cameroon
Before her surgical training with PAACS, Dr. Keba Faith Bih Irene worked at a clinic in her hometown in Cameroon. In her community of two million people, the closest trained surgeon was six hours away. She watched treatable conditions quickly became life-threatening due to the time required to reach someone qualified to perform surgery. It was her wake-up call that she should train as a surgeon.
After completing medical school, she met multiple PAACS graduates along her path. Instantly she saw a difference in their demeanor. They were kind, patient, God-fearing surgeons, unashamed about praying with their patients. She could tell God was the overseer of their work, and she wanted to be trained in the same manner. Upon learning more about PAACS, she began applying in 2019. She was overjoyed when she was accepted to start training in January 2022. 
At the very beginning of her PAACS training at Mbingo Baptist Hospital in Cameroon, Dr. Irene witnessed an event that she will not soon forget. The condition of a female patient was quickly deteriorating due to multiple organ failures. Dr. Irene shared with the patient that the Lord was with her during this difficult time. She then explained the reality of limited treatment options remaining due to her condition. However, they would both soon witness the passion and reliance on God that occurs at PAACS training programs.
The PAACS Program Director at the time, Dr. Jim Brown, arrived soon after and quickly decided to take the woman back to the operating theater. Intently watching his approach, Dr. Irene noticed when he stepped back from the patient. In the depths of this difficult procedure, he stopped. He was praying and talking with God. Continuing with the surgery, he finished, and the patient was taken to recovery. Only two weeks later the patient was healed and ready to be discharged!
Dr. Irene was amazed at the change she saw right in front of her eyes. Earlier she had been preparing the patient for end of life due to the extent of organ failures. She will never forget the courage she saw in Dr. Brown. Not only did he take the patient back for a difficult surgery, but he chose to stop when things were difficult and rely on God's guidance and His hand to heal. Dr. Irene appreciates being trained with PAACS in this way. She plans to provide surgery in a rural setting of Cameroon where she can also care for the spiritual path of her patients and guide them towards trust in the Ultimate Healer.