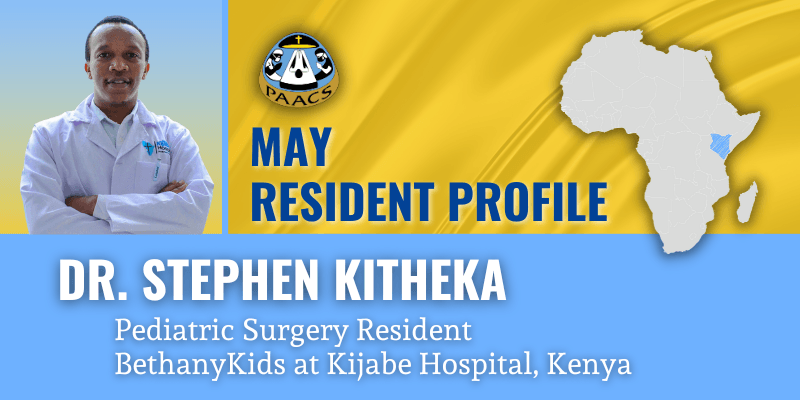 PAACS Resident Profile
Dr. Stephen Kitheka
Pediatric Surgery Resident
BethanyKids at Kijabe Hospital, Kenya
Dr. Stephen Kitheka is a second-year pediatric surgery resident with BethanyKids at Kijabe Hospital in Kenya. For years, he dreamed of finding a way to use his surgical skills to make a difference in the lives of African children. In 2014, he found his answer: the Pan-African Academy of Christian Surgeons (PAACS).
Dr. Kitheka remembers the day he first learned of PAACS like it was yesterday. He was researching opportunities for pediatric surgery in Africa and scribbled PAACS down in his diary. It was clear to him that this program viewed patients as whole, not just medical cases to be solved.
Seven years later, Dr. Kitheka applied to PAACS and was accepted! Today, he holds tightly to 2 Timothy 2:20-22, a verse that has guided his life and work. He believes that this life is not meant for normalcy, but a noble cause, and that Jesus has directed him to use his skills to improve access to surgery in Kenya and across Africa.
Dr. Kitheka loves surgery. He finds fulfillment intervening in the lives of patients, and witnessing their recoveries. Since joining PAACS, he has been inspired by the program's approach to palliative care. The team not only explains patients' conditions and prognosis, but they share the hope found in Jesus. Their message is not based in fear, but in the belief that God can heal and has given us hope of eternity with Him after this life for those that believe in Him.