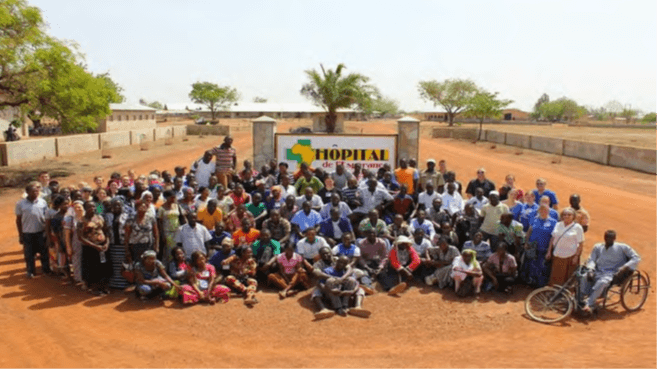 At the last PAACS Board of Directors meeting in April 2022, a new PAACS General Surgery program at the Hospital of Hope (HoH) in Togo was approved to start in 2023. This will extend the reach of PAACS into a tenth country in Africa since it started in Gabon in 1996. The start of this program has been a subject of much prayer and generosity for several years, with Dr. Bob Cropsey leading the way.
Hospital of Hope, which is a part of ABWE (Association of Baptists for World Evangelism), is located in the northern region of Togo on the north side of the city of Mango with a population of about 5,000. It opened in March 2015. The hospital is a 66-bed major medical, surgical, and acute care facility and regional trauma center for the northern half of Togo and adjoining countries. The bulk of the patients are Togolese, but many come from neighboring Ghana, Burkina Faso, and Benin. Their sister hospital, Hôpital Baptiste Biblique, located on the southwest side of Togo, hopes to also house a PAACS training program in the future.
The staff is composed of missionary physicians and other volunteers as well as Togolese physician assistants, nurses, and support staff. The Togolese staff is made up of a mix of Christians and non-Christians. Annually, they provide care to over 2,500 medical inpatients and have approximately 1,000 surgical cases. The hospital outpatient clinic is open four days per week, and averages 100-150 patients (depending on number of providers available) per day. The outpatient clinic contains several exam rooms and a treatment room. The hospital also holds immunization and prenatal clinics. In all of their services offered, their main goal is to share the Gospel of Jesus Christ as they provide compassionate healthcare in His name. Hospital of Hope has a strong chaplaincy program that is considered the cornerstone of what they do. The chaplaincy staff includes both missionaries and Togolese believers. All volunteers are encouraged to witness to patients.
Some of Hospital of Hope's future plans and needs include:
Obstetrics, pediatrics, and neonatal service expansion
Surgical expansion for PAACS
Isolation facility for Lassa Fever, meningitis, etc.
Nursing education faculty recruitment
Chaplaincy development
Please join us in prayer that God will continue to pave the way for PAACS to train surgeons at Hospital of Hope starting next year.