New 25th Anniversary Book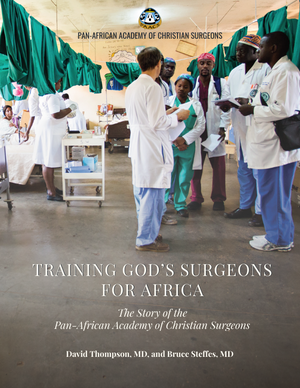 Training God's Surgeons for Africa: The Story of the Pan-African Academy of Christian Surgeons
On the 25th anniversary of the founding of the Pan-African Academy of Surgeons, this book has been published to commemorate the faithfulness of God and the sacrificial work of those who have paved the way for PAACS. The history of this ministry is detailed in this book along with inspiring stories from PAACS graduates and faculty. These testimonies display God's hand being upon the hands of PAACS surgeons as they bring hope and healing to the poor and needy in Africa.
Articles
Reaching the Unreached
by Bruce C. Steffes, MD, MBA, MA
"Five hundred million heathen have not yet been evangelized, so it is computed! Yet our great Missionary Societies have reached high water-mark, and if they have not already begun to retrench they are seriously thinking of doing so. Meanwhile, the heart of Asia, the heart of Africa, and well nigh the whole continent of South America, are untouched with the Gospel of Christ."
C.T. Studd, the famous British cricketer turned missionary, made that statement more than 120 years ago, long before smartphones, internet and international flights. And yet, the statistics he quoted are worse now in 2016, despite the fact that parts of those great continents have been reached with the gospel to varying degrees. There remains hundreds of millions of souls on the continent of Africa who face physical suffering on this earth and an eternity without Christ. In fact, there are billions—not millions, but billions—of people around the world who are still untouched with the gospel.
These statistics and the philosophy behind Studd's comments are exactly what drive the mission of the Pan-African Academy of Christian Surgeons (PAACS). And it's something we take extremely seriously as we seek to make a difference in the spiritual and physical health of an entire continent.
As a commission of CMDA, our goal is to train African physicians to become surgeons in Africa for Africa, with the intent of serving their fellow Africans for a lifetime. With academic credentialing provided by Loma Linda University and recognized by both African Colleges of Surgery, PAACS uses mission hospitals to give training in general surgery, orthopaedics and pediatric surgery. Additionally, a one-year fellowship in head…
---
Are you interested in being a surgical educator on the mission field? Here is a guide.
---
Related articles
God's Surgeons in Africa
In 1994, God told David Thompson to start training surgeons in Africa. Thompson was in the fifteenth year of a mission to Gabon at the time, in West Africa. "I just realized…
 – published in The Atlantic, Dec 28, 2012
"I don't really see it as a sacrifice."
Dr. Rich Davis performs surgery in a place where monkeys scramble over roofs and giraffes, gazelles, and zebras roam a short drive away. Davis and his family have spent nine years…
– published in Live Well Nebraska: Health & Medicine, May 11, 2016
Sanctuary in the Storm
As I write, rain is falling steadily on the tin roof above me, while thunder echoes in the distance—the first signs of a coming storm, an almost daily occurrence here in the rainy season…
 – published in CMDA's Todays Christian Doctor, Winter edition, 2014
Training and Healing through PAACS
The sign over the exit door in the church proclaimed, "You are now entering the mission field." In his article, Dr. Scheel made the same point…
– published in CMDA's Today Christian Doctor, Winter edition, 2012
Story of M
M. was a patient in our hospital for about a month. He was a 22 year old man who was working at a construction site where he sustained his…
 – written by former PAACS faculty, Dr. Paul Gray
---
Books
---
Medical Texts (E-books)
---
Other Resources – Blogs, Websites, and Newsletters
---
Didn't find what you were looking for, or have further questions?