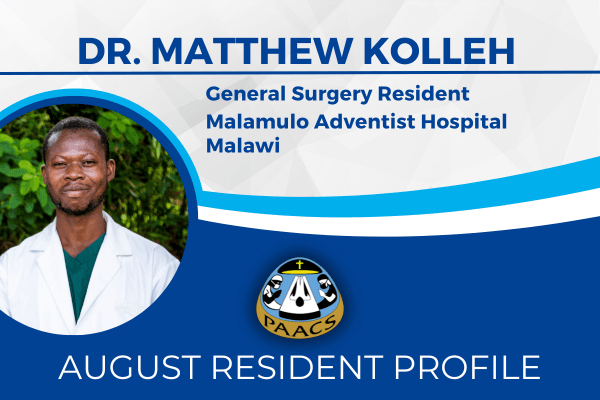 PAACS Resident Profile
Dr. Matthew Kolleh
General Surgery Resident
Malamulo Adventist Hospital
Malawi
Born into a Christian home, Dr. Matthew Kolleh did not truly embrace faith in Christ until a severe illness brought him to the brink of despair. Despite growing up surrounded by daily prayers, he participated in church out of fear rather than a genuine interest in the Lord. However, everything changed when he fell gravely ill, and his journey towards healing revealed the power of God's intervention.
In 2003 his mother passed away. Two months later, at only 13 years old, he began battling anorexia, nausea, and intermittent fevers. His health rapidly deteriorated. Without access to medical facilities or a pharmacy, he relied on ineffective herbal remedies.
He eventually started seeking treatment at hospitals that were far from his village. A traditional healer even accused him of being a wizard which further isolated him from his loved ones. Abandoned by friends and family, he felt utterly hopeless.
Yet, in the depths of despair, he clung to the memory of a pastor's prayer during one of his hospital visits: "Matthew, you will not die; keep trusting in God." Faced with dire circumstances, he chose to trust in the Lord, knowing that His name surpasses all others, and He is the greatest Physician.
In April 2004, bedridden and reaching his weakest point, he fasted and prayed, pleading for healing and fully committing his life to the Lord. He asked God to transform a piece of bread and a cup of water into his only medication. As he consumed them, he was overcome with sweat and renewed strength. Within an hour he knew he had been miraculously healed and it was indeed the end of his illness.
From that moment forward, he dedicated his life to Christ. Defying expectations, he achieved academic success and vowed to live a pure and faithful life. Currently training as a general surgeon with PAACS at Malamulo Adventist Hospital in Malawi, he carries with him the personal experience of Christ's healing power. His goal is to be an instrument of God's love, offering hope and inspiring patients to turn to Jesus for complete healing. At PAACS, he appreciates that after every successful surgery, patients are told it's God's doing and the glory should be given to Him alone.
May Dr. Kolleh's testimony serve as a reminder of the impact from a simple prayer leading to an eternal difference and show the transformative power of faith in Christ Jesus.