Drew Huang, MD, FACS, FRCSC, FCS(ECSA), FICS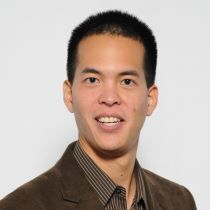 Drew Huang, MD, FACS, FRCSC, FCS(ECSA), FICS, Associate Director of Education
Contact Information:
Drew Huang was born and raised in the Pacific Northwest of the United States. After graduating high school in Portland, Oregon, he completed undergraduate and medical studies at Penn State University and Jefferson Medical College, respectively. He then matched to the plastic surgery residency program at the University of California-Davis Medical Center in Sacramento, California. 
After three years of residency, Drew took a year of absence and worked as a surgical volunteer under the tutelage and mentorship of Bill Rhodes, MD, an American general and plastic surgeon who has long lived and worked at the AIC Kapsowar Hospital in Kenya. It was during this time that he met a Taiwanese-Canadian medical student from Australia who would later become his wife.
Drew returned to Sacramento to finish his residency and then went on to a craniofacial fellowship at Washington University/St Louis Children's Hospital. He subsequently worked in Albany, NY and Saskatoon, Sask., while his wife did family medicine specialty training.
Drew served as a faculty member of the PAACS General Surgery Program at Bongolo Hospital from 2018-2020. He later went on to complete a fellowship in paediatric hand and microsurgery at the Royal Children's Hospital in Melbourne, Australia, before settling in his wife's hometown of Vancouver, BC, where they currently reside.
Drew joined the administrative side of PAACS in 2023 as the Associate Director of Education. He maintains a clinical practice at the BC Children's Hospital in Vancouver as a pediatric plastic surgeon. He and his wife Kimberley have three children, each born on a different continent (US, France, Taiwan).