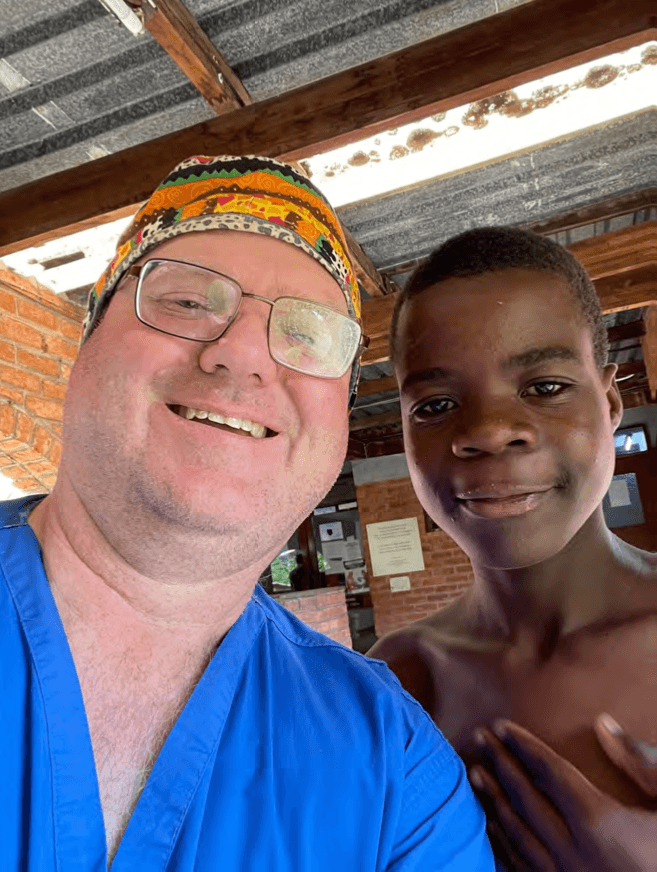 Dr. Cheney is part-time faculty at the PAACS General Surgery Program at Malamulo Adventist Hospital in Malawi.
PAACS: What led you into becoming a surgical missionary?
DR. CHENEY: I am not sure I had much choice. I grew up as a missionary kid in Eswatini (Swaziland) Africa, and this influenced me in many of my life choices. Although my parents were not medical missionaries, I had been exposed to a large mission hospital in Manzini, Swaziland, which sparked my interest in becoming a doctor. So, from the age of eight or so, I have always wanted to be a doctor. One of our family friends was a surgeon, and this is most likely where my interest in surgery came from. Growing up in Africa made me feel that this is my home, so it is very easy to come back to Africa to work as a surgeon. Fortunately, God has opened doors for me to come in this capacity to serve people in Malawi with PAACS.
PAACS: Why did you choose to work with PAACS over other organizations?
DR. CHENEY: Having grown up in Africa, I have always wondered what will make a difference in the spiritual and medical health of Africa. Developing surgeons and leaders who have a heart for their own people seems the best way to develop this. Fortunately, PAACS already had this vision, and it was very easy to come on board with this.
PAACS: Where is your home base and practice?
DR. CHENEY: My home base is in the rural part of Iowa, and I cannot thank the hospital at Lake City, Iowa enough for letting me live my dream of working as a surgeon in Africa. At home, I work as a rural surgeon which gives me a broad surgical practice that is very helpful when practicing in Africa. I live in Carroll, Iowa, not far from Lake City, and I also help cover surgical care there.
PAACS: Home much time do you spend at home vs. in Malamulo?
DR. CHENEY: Currently, I am trying to do a schedule of three months at Malamulo and nine months at home. Usually, I come to Africa from January to March. COVID did affect this some, but I am hoping to get back on this schedule. The great thing about my hospital is that they pay me over12 months, and I am able to maintain my health insurance and benefits. The three months that I am gone are like a sabbatical. This also helps in my ability to maintain CME and licensure. Fortunately, the surgeons that are in the area are willing to provide care while I am gone. I cannot thank all those who help out with this mission enough.
PAACS: Do you have a family? If so, how do they cope with this lifestyle?
DR. CHENEY: I am very blessed with a wife and three children. My wife is a pediatrician, and we tried to have her come with me for part of the time. However, COVID and some job changes have made it difficult the last few years. Hopefully, in 2023, she can join me. Our children are in college or beyond, so this is another reason I have been able to choose this life - to work as a mission surgeon.
PAACS: What is your motivation for serving in the way that you do?
DR. CHENEY: Christ's love enables me to do what I do. That is my main motivation. I feel that Christ has blessed me in so many ways that I cannot help but desire to work with young Christian surgeons who will transform Africa over the years to come. Sharing Christ's love with patients and hospital staff is a great joy. Praying during surgery makes a difference. I think some of the most exciting transformation is seeing the spiritual and surgical growth in the PAACS residents as they transition through their five-year program.
PAACS: What advice can you give to other surgeons who God may be calling into ministry?
DR. CHENEY: Trust God, and He will open doors and give you a path in His timing. Some specific things that can be done is becoming involved in PAACS. This will expose you to opportunities. Ask your work and work partners, as well as your family, what they would think of you spending some time in mission work. You don't have to serve for years or even months to make a difference. Doing two weeks somewhere can be a great blessing to you and those you work with.